ACEPHAP Collaborates with 7 Kenya Universities and an Institute of Nutritionists and Dietitians
In its determined efforts to expand its regional collaborations with Universities and research institutes across the African Continent as well as encourage regionalization, African Centre of Excellence for Population Health and Policy (ACEPHAP) has concluded all necessary arrangements to collaborate with Kenya Nutritionists and Dieticians Institute (KNDI) and seven Kenya Universities in the areas of teaching, research, community outreaches, training as well as staff and students exchanges.
Already ACEPHAP's Deputy Director, Linkages and Outreach, Dr. Salisu Abubakar Maiwada who was in Kenya for a one month internship/working visit to the identified Universities and the Institute in Kenya return after sealing the nitty gritty of the collaboration on behalf of ACEPHAP.
The collaboration in addition to teaching, research and community outreach is also geared towards partnership in finding lasting solutions to challenges in nutrition towards achieving the SDGs.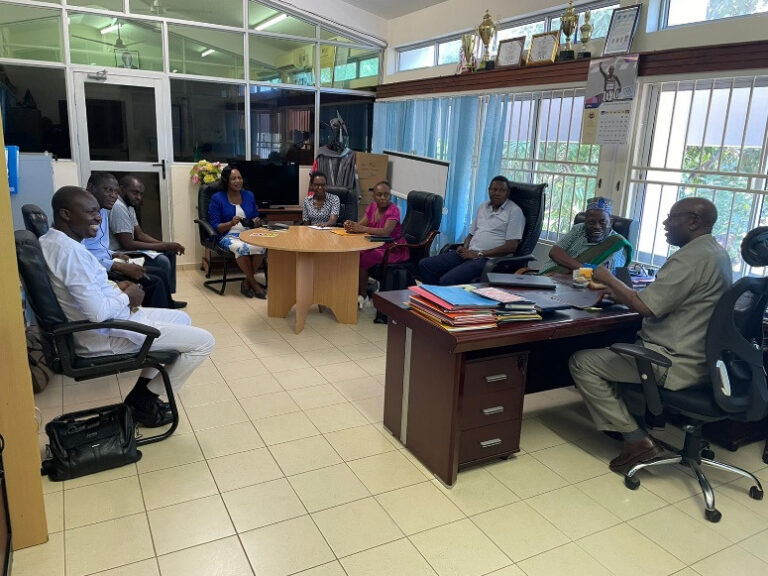 One of the Meeting sessions with the ACEPHAP Deputy Director, Dr. Salisu M. Abubakar (3rd left)
Briefing the Centre on the nitty gritty of the collaboration, Dr. Salisu said a memorandum of agreement is to be signed to guide the collaboration. He said an interactive sessions facilitated by the Chief Executive Officer (CEO) of the Kenya Nutritionists and Dieticians Institute and Chief of Party of the Agenga' Training and Research Institute (ATRI), Dr. David Omondi Okeyo were held. He listed the seven collaborative Universities that attended the series of meetings to include; Maseno University, Pwani University, Masinde Muliro University of Science and Technology, Karatina University, Technical University of Kenya, and University of Eastern Africa - Baraton.  
Dr. Salisu disclosed that during the KNDI, ACEPHAP and the identified Universities meeting issues discussed extensively and agreed are matters of collaborations in research; community outreaches/students staff exchange, Maters and PhD scholarships for Nutrition, Dietetics and related health programmes. He added that as lead partners in the progamme, KNDI and ACEPHAP are determined to expand collaboration among Kenyan universities.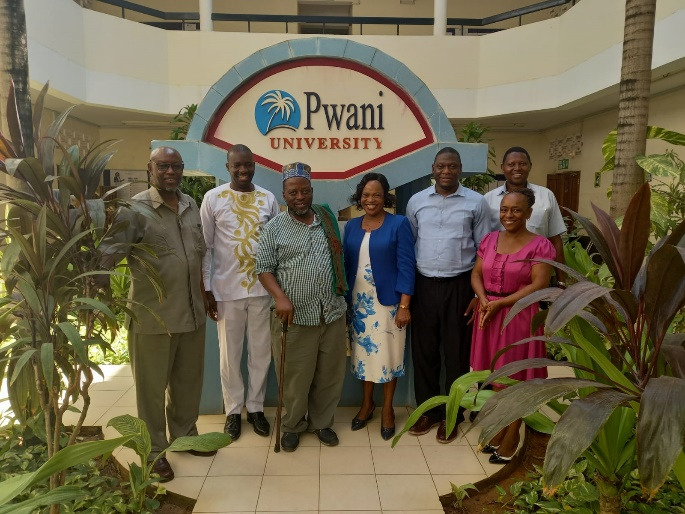 ACEPHAP Deputy Director, Dr. Salisu M. Abubakar (3rd left) in a group photograph with his host
In their separate reaction, the management of the seven Universities expressed commitment to partner with the KNDI and ACEPHAP in the areas mentioned above. 
In his remarks at the meeting, the Acting Vice Chancellor of Pwani University, Professor James H.P Kahindi congratulated KNDI team for facilitating the collaboration with ACEPHAP and re-affirmed their relationship with KNDI. 
Professor Kahindi stated that Pwani University is currently active on matters of research and community outreaches and is currently collaborating with many Institutions such as KEMRI Kilifi and is also hosting a Centre of Excellence in Informatics and Analytics which is 'currently a collaborative initiative between Pwani University, Kilifi County Government and KEMRI-WTRT,' he remarked.
Dr. Salisu disclosed that in their joint submissions, ACEPHAP and KNDI as key partners are planning to work with 7 other Universities in Kenya to build a long-lasting collaboration for huge grants. He said the team later met with the technical team that included experts from Nutrition, Nursing, Public Health and Anatomy departments to explore areas of further collaborations.
The ACEPHAP Deputy Director further stated that he and Dr. Okeyo of KNDI agreed that their focus is very relevant for collaboration and potential to take lead on Nutrition and Dietetics data harvesting in the African region. He, however said the team advised that the new hub be scaled up to other regions and if possible be replicated in other African Countries to give it a regional focus.
He said the management of the seven Universities expressed optimism and assured of their commitments to partner with ACEPHAP in order to achieve the desired objectives. They believed that the collaboration would be beneficial to both Centres and the 7 Universities.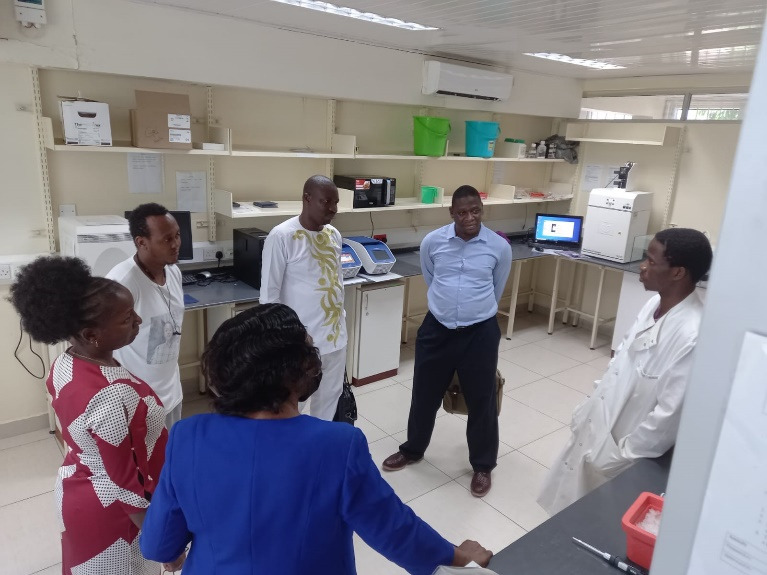 ACEPHAP and KNDI team sharing point of interest
Find some related links below:
https://www.kndi.institute/2022/03/09/vice-president-of-nigerian-nutrition-society-professor-salisus-visit-to-kndi/ 
https://www.kndi.institute/2022/03/21/kndi-mount-kenya-univerity-mku-and-center-for-excellence-in-population-health-and-policy-research-from-bayero-university-kano-state-in-nigeria-inaugural-meeting/ 
https://www.mmust.ac.ke/mmust/index.php/news-media/news-and-events/838-must-picked-by-kenya-nutritionists-dieticians-institute-kndi-among-other-accredited-universities-for-collaborative-research 
https://www.kndi.institute/2022/04/01/maseno-university-is-one-of-the-eight-universities-nominated-by-kndi-to-partner-with-africa-canter-for-excellence-in-population-health-and-policy-at-bayero-university-kano-state-nigeria/ 
https://www.kndi.institute/2022/04/08/kenya-nutritionist-and-dieticians-institutekndi-centre-of-excellence-for-population-health-and-policyacephap-and-pwani-university-on-matters-of-research-collaboration/